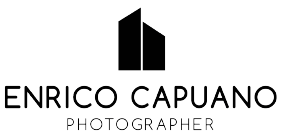 CREDENZIALI
---

Leggi le credenziali su Facebook
---
Professional, relaxed, got all the shots without being demanding or imposing as many wedding photographers I have seen before (at other peoples weddings!) have been - so many beautiful natural photographs. Enrico and Gianni were great and lovely to have two photographers to capture both the brides and grooms parties getting ready! Highly recommended!

Suzanne Dreyer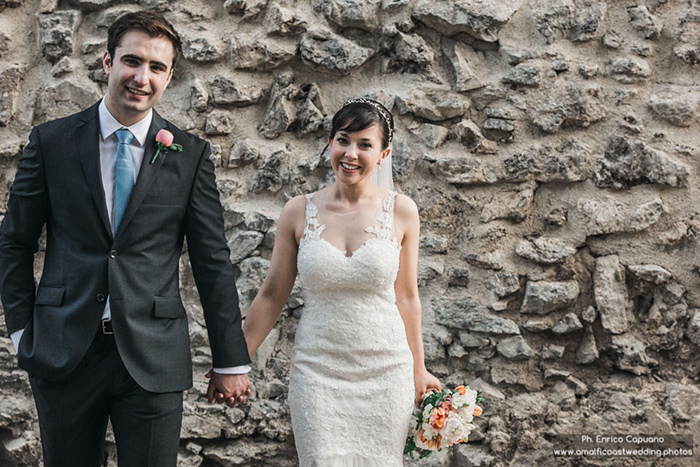 ---
I met Enrico through Mario at Wagner Tours when I went to Ravello to get married and was keen for him to take photographs at our wedding. The work he has had published online is simply stunning. I think anyone can be trained in photography but it takes a real artist to capture the essence of the day and the beautiful surroundings so perfectly. On a personal level, he is friendly, funny and really personable. That is so important to help put people at ease. His English is also perfect so there were no language barriers in describing how we wanted the day to be photographed. His professionalism was second to none. I really can't praise him enough. We are overjoyed with our photographs. They are even better than we could have dreamt. I particularly love the reportage style pictures as they showed exactly how the day happened. have no hesitation in recommending Enrico as a photographer. My only advice would be to snap him up as soon as you can because I can only imagine he's going to get busier and busier. Thanks Enrico. It was such a pleasure to have you as part of our special day x

Katie Schofield
---
We got married in Ravello in July 2015 and Enrico was recommended to us by Mario at Wagner Tours. We met Enrico before the wedding day and from the moment we met, we knew that he'd be perfect. On the day he made us feel so relaxed and captured our wedding exactly the way we want to remember it. We got our photos very quickly and they are absolutely perfect. They're so beautiful and illustrate wonderfully all the fun that we, and all our guests, had on our special day! We are so happy that Enrico was our photographer and would always recommend him to anyone who is getting married in the area.

Heather Liddell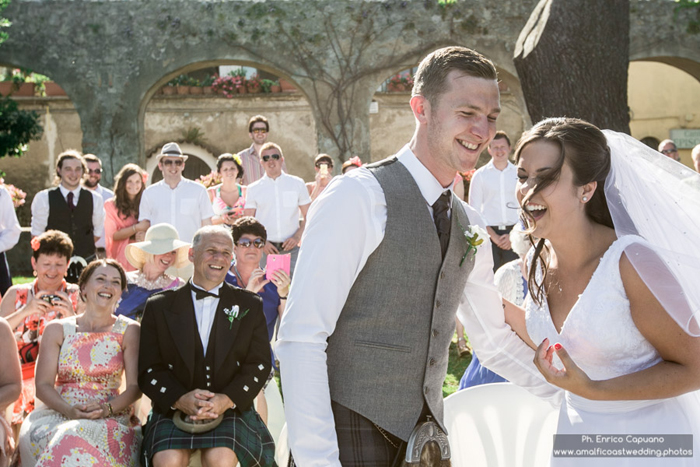 ---
We booked Enrico Capuano as our wedding photographer through Wagner Tours. Enrico put us at ease throughout the day and along with Gianni, were attentive and professional throughout the day. We have now recieved all of the photos and we were blown away by the quality of the shots. As well as being a fantastic photographer he is also an absolute gentleman and was so friendly to us and our guests throughout the day. I would recommend Enrico to anyone thinking of having professional photos taken in the Almafi Coast, the man is a genius!Thank you so much Enrico, you have provided us with some incredible photos and allowed us to relive our day again, your English friends, Stewart and Hayley Jeeves

Stewart and Hayley Jeeves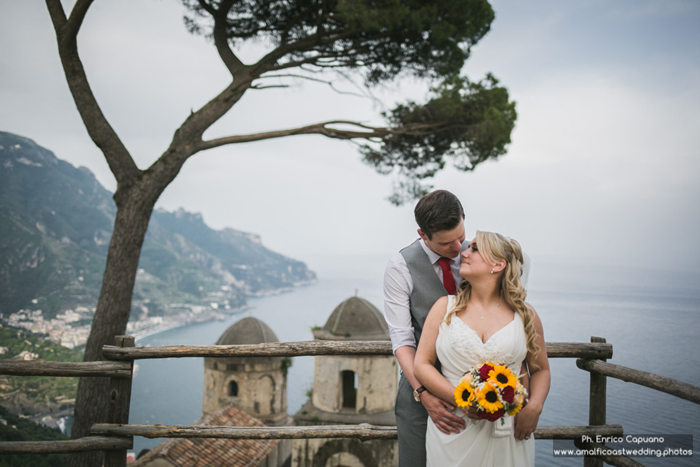 ---
When choosing a photographer for our Wedding in Ravello I especially wanted someone who would capture the atmosphere and spirit of the day. We have been to many weddings before and stood in the same posed groups for your pictures (Bride's family, Groom's family etc) and we wanted something a little more relaxed. We wanted to look at the photos and remember everyone smiling, laughing and enjoying themselves. Enrico was a perfect choice for this, the photos we received were amazing and we are so pleased that he really did capture the relaxed atmosphere for our day. We hardly noticed Enrico taking the photos, he took group photos when we requested them but then the rest of the time he took photos of us laughing, drinking and having a great time. We are really happy that Enrico also captured the views of Amalfi while having our photos taken, the views are amazing and you could really see why we chose Ravello for our wedding. I personally feel uncomfortable having my photo taken, I'm not one to pose for photos but Enrico was so warm and friendly, we were all completely at ease with him, as if we had invited a friend to take our photos. We didn't mind him being with us while we were getting ready either, he was very chatty and calming. I would recommend Enrico to anyone without a doubt!

Soozie Edmeades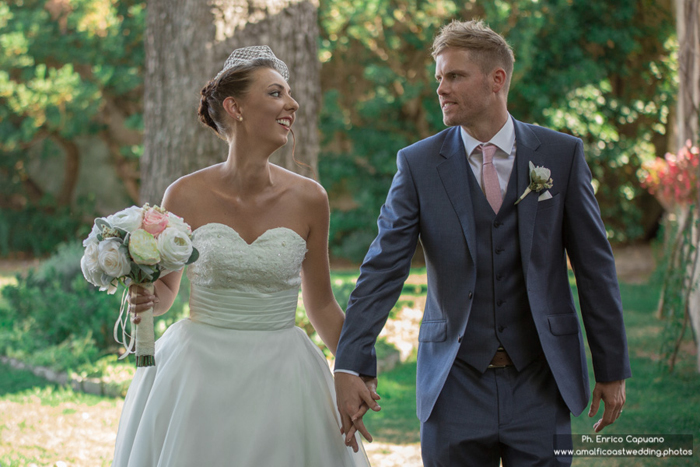 ---
We would like to thank and congratulate this beautiful work done by Enrico Capuano, which for us was a very special and important moment in our lives. Enrico Capuano works with passion, in every detail. Besides being a fun person. We are very satisfied and happy! Gostaríamos de agradecer este belo trabalho feito por Enrico Capuano, que para nós foi um momento muito especial e importante em nossas vidas. Enrico Capuano trabalha com paixão, em cada detalhe. Além de ser uma pessoa divertida. Estamos muito satisfeitos e felizes!

Mariana Christo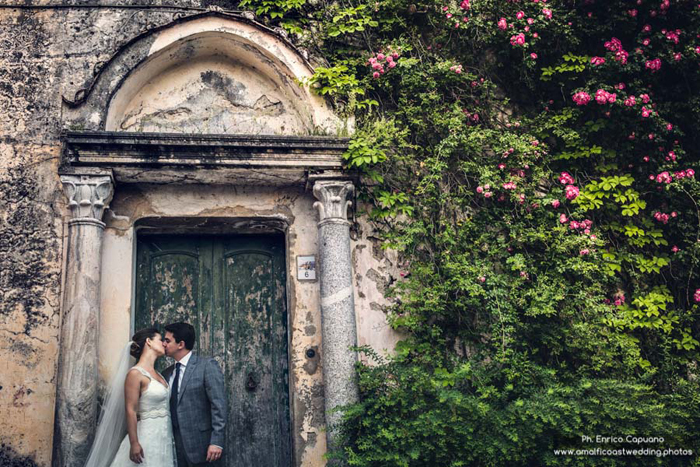 ---
Enrico was absolutely amazing! Weddings jitters were high with weather threatening to ruin the day, but Enrico made taking pictures a blast even in the rain. Such a wonderful personality and his photos are outstanding! I'm in awe when I look at my wedding photos. Highly recommend!

Alyssa Rose
---
Enrico recently captured the love and happiness on our wedding day, and I put it this way because Enrico is more than a photographer, he didn't just take photos, he captured moments, the ones you don't realise anyone was looking and it's these moments, in photos we'll have forever thanks to Enrico! He is a natural and I couldn't have asked for anything more from him. Our photos are beyond perfect and everything I wanted in wedding photos! I'm forever grateful to Enrico xxx much love,

Hayley and Mark xx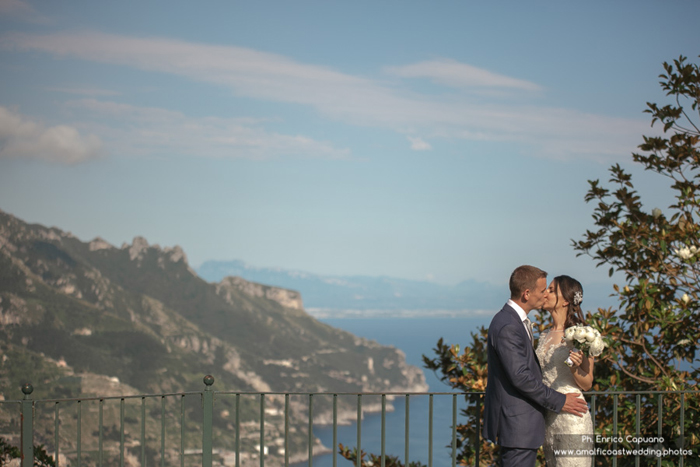 ---
Recently got married in Ravello, and just received our wedding photographs "Wow" Enrico Capuano quoted us for around 500 pictures and we ended up with nearly double at no extra cost. How lovely and naturally taken too, that's how we like photos to be taken. It's great to capture the local people and beauty of Ravello around our shots. Our guest was stunned by the surrounding area. Enrico, Mario Capuano & Annamaria made it our special day with excellent organisation. Great down to earth people that tell it how it is with no hidden costs. How pictures tell one amazing story of the beginning of our married life together, that will live with us forever in the eye of a talent man "Enrico".

Dave & Michelle Brady x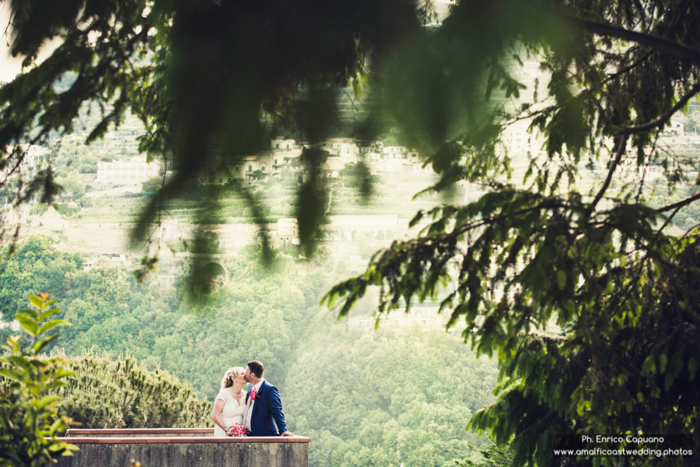 ---
We booked Enrico through our wedding planner and we are completely blown away by our photos. Getting married in Ravello is totally magical something we didn't know if you could capture in a photo but Enrico has managed to! It is so important to have a photographer that you can be comfortable around and you really get that with Enrico , a great guy who is good humoured and fabulous at his job! We couldn't recommend him highly enough! Thank you So so much!! X

Eloise Mannall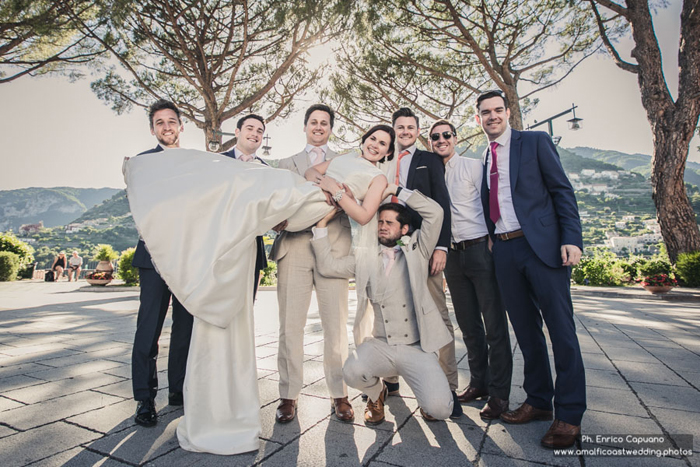 ---
Every person who works at Wagner Tours is a professional of excellence and Enrico is no exception. Warm and funny but always so professional, we were awfully lucky to have him as our photographer. The photos he took were a perfect capture of the most beautiful day. We love you, Enrico, and are so glad that you were with us on the best day of our lives.

Shannon S.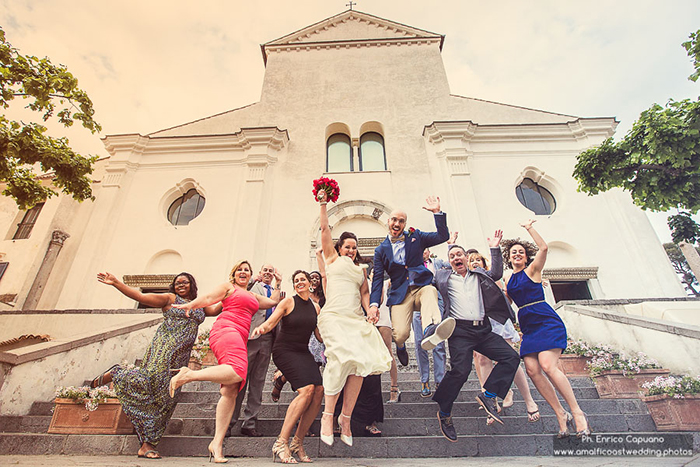 ---
Enrico did a great job! He showed up early, has a very relaxed and positive attitude and got us our photo's all the way to U.S. really fast! Thanks Enrico!

Brittany P.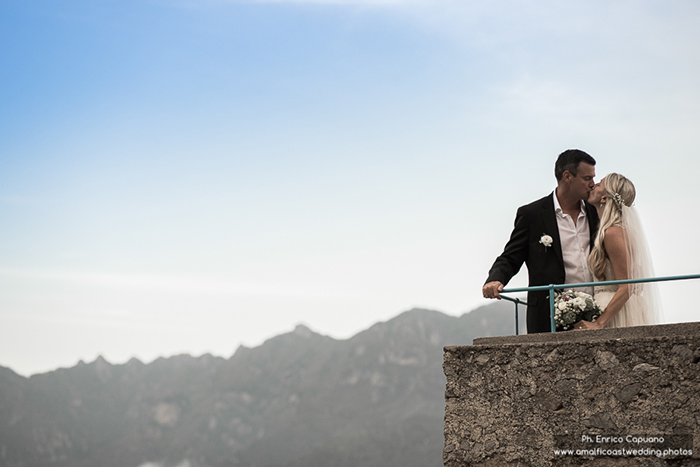 ---
When planning our wedding we felt restricted by traditions and did not truly feel settings in the UK provided what we had envisaged for our wedding. We decided to step away from convention and instead be true to ourselves about what we pictured for our wedding day. We both realised that we wanted to feel on top of the world and be surrounded by the sea and mountains, which Ravello offers with abundance. Neither of us had visited Italy before, but through browsing online fell in love with Ravello, which seemed like a perfect romantic quiet little town with never ending picturesque views. The phots do not give it justice; Ravello is absolutely breath taking!!! The tag lines, "Closer to the heavens than the sea" was instantly apparent. However, we did not expect our wedding and the photos to be as beautiful as they are. Enrico was amazing, he made us and our guests feel so comfortable. The groom hates having his picture taken, but by then end of the day he was acting like a Abercrombie and Fitch model. It was clear Enrico was passionate about photography and was keen to capture all the wonderful moments throughout the day. He did not place focus on being too adventurous in regards to poses and positions; he explained that if the lighting, location, mood (and models of course) were right, then everything else would fall into place. My God was he right. Enrico had a clear vision but also listened to the suggestions and requests of us and our guests…even the difficult ones. He has been teasing us for a couple of weeks through releasing a picture now and then, which has made us anticipate receiving all of the pictures. I have had so many compliments from friends and family, who cannot believe the quality of the photos. Enrico, you have exceeded expectations!!!

Shekira L.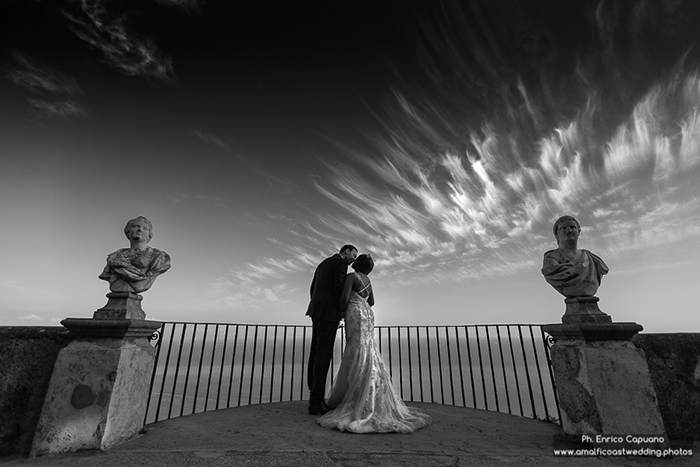 ---
Excellent photographer, easy to relax around and feel comfortable with. Capturing all moments without any prompting required, and with a style that suits each individual couple. Enrico was exceptionally friendly and has a warm approach.

Katie O.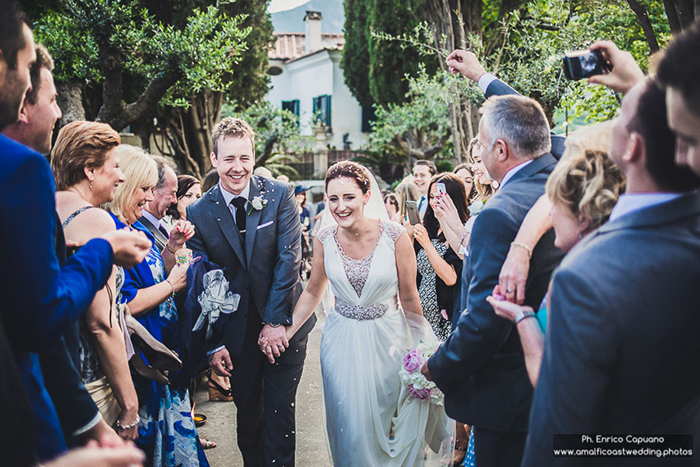 ---
I used Enrico's services for a last minute surprise proposal. He was recommended to me by our hotel in Ravello so I wasn't sure what to expect. First impression of him was that, with his busy schedule and last min notice he was there at the "surprise" location on time. I didn't have a chance to speak with him directly or coordinate anything with the proposal, but his professional behavior and talent showed that he has done all sorts of different style of photography. He knew how to capture the moment and stay hidden at the same time. My fiancé never saw or noticed him. Even though the pictures were taken in very low lighting, they still look amazing. Enrico is very nice and polite and truly knows what he's doing with his camera and he made us feel at ease and comfortable with him when we started taking the after proposal pictures. The only regret I have is that we had to leave the next morning, otherwise I would have hired him the next day to take more pictures of us by the water and in different locations around Ravello. My fiancé and I were truly amazed by the style and quality of his work and more importantly by him himself and his personality and professionalism. I had no previous communication with him prior to my proposal and we only spent about 45 min with him that night and that was all it was needed to recognize what a gentleman he is. We highly recommend him and his services for any type of event.

Omid T.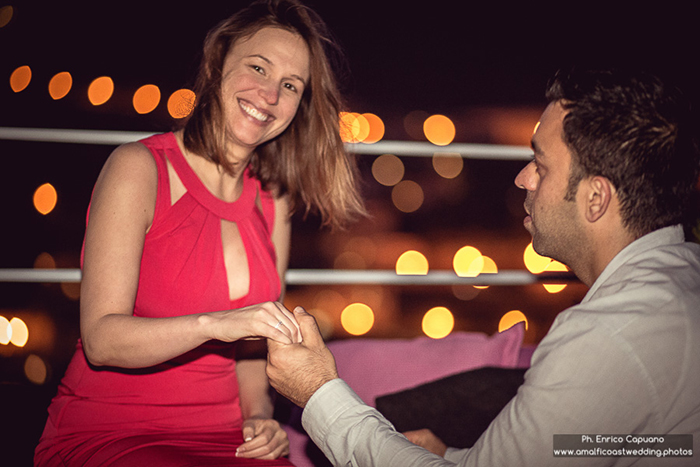 ---
I met Enrico through Mario at Wagner Tours when I went to Ravello to get married and was keen for him to take photographs at our wedding. The work he has had published online is simply stunning. I think anyone can be trained in photography but it takes a real artist to capture the essence of the day and the beautiful surroundings so perfectly. On a personal level, he is friendly, funny and really personable. That is so important to help put people at ease. His English is also perfect so there were no language barriers in describing how we wanted the day to be photographed. His professionalism was second to none. I really can't praise him enough. We are overjoyed with our photographs. They are even better than we could have dreamt. I particularly love the reportage style pictures as they showed exactly how the day happened. have no hesitation in recommending Enrico as a photographer. My only advice would be to snap him up as soon as you can because I can only imagine he's going to get busier and busier. Thanks Enrico. It was such a pleasure to have you as part of our special day x

Katie S.
---
Well, what can we say?! Enrico was the BEST wedding photographer we could have ever dreamed of booking! His talents have not only captured our posed pictures perfectly but the beautiful moments that you don't realise any one is looking! Despite it raining on our wedding day he made Jenna feel completely at ease & more of a known friend than someone she had met for the first time- he even helped blow the confetti out of her hair! We embraced the weather & enrico did too nothing was a trouble for him and his team; and the resulting pictures will stay as a treasured memory with our family for a lifetime! We could not recommend a more fantastic photographer! Grazie mille Enrico!!! Jenna & John Doig (married 17/4/14)

Jenna D.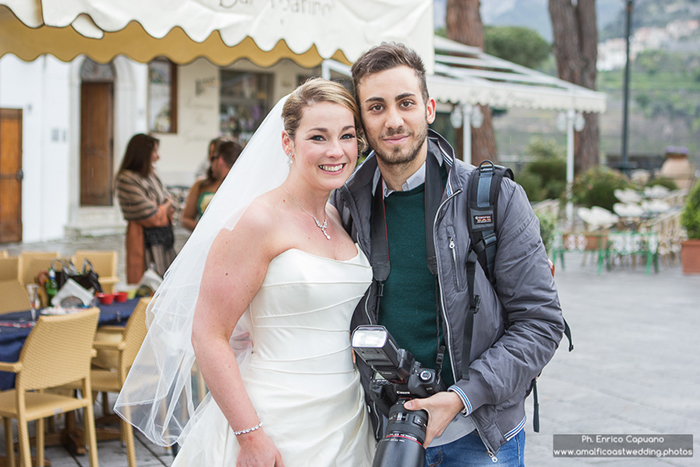 ---
We booked Enrico under advice from Mario (Wagner Tours) and when our friend was unable to take photos for us as originally planned. I knew from Enrico's previous work on Facebook that he was certainly a talented photographer but on the day of the wedding he blew away all my expectations! My partner and I felt so relaxed and comfortable and this was very important as he absolutely hates having his picture taken! We followed Enrico's advice which, again, was very laid back and relaxed and wandered around the main square of Ravello, chatting to our wedding guests and got some fabulous pictures as a result. Thank you so much for capturing our special day Enrico it really means so much to us that we can share these memories with family and friends through your gorgeous pictures!! I very much recommend Enrico as a photographer- we were totally at ease around him and knew we would be getting some amazing how photos!

Dannie O'C.
---
Enrico, We cannot 'Thank You' enough for the outstanding job you did photographing our Wedding on 5th July 2014. From the minute you came into the room whilst I was getting ready for my Big Day you made me feel so relaxed and like a Princess. Most people talk about how much they hate having their photos taken but I can honestly say I loved every minute. You made us laugh and we both felt so relaxed in front of the camera, a hard skill to master, but your personality and sense of humour really helped. I was so excited when the photos arrived and my gosh I was not disappointed you literally captured everything. The photos are out of this world and we were both so happy with the end product. I have had so many people comment on how amazing our Wedding photos are and this is all thanks to you. For someone still so young you are just bursting with talent. We honestly cannot thank you enough for making our Wedding Day just so perfect and for capturing every last minute, thanks to your photos we will never be able to forget our special day.

Laura H.
---
Dear Enrico , Andy and I just wanted to say a huge thank you for making our special day truly AMAZING. You really did go above and beyond, with your professionalism, sense of humour, warmth, kindness, personality and patience with my demands! we, and all of the guests, thought you were absolutely fantastic! From the moment you arrived, whilst the bridesmaids and I were getting ready, you put us all at ease and were happy to go along with the madness of five very excitable girls!! Throughout the day, it was more like having photos taken by a good friend and you were able to provide direction, in a calm and sensitive manner. We can't thank you enough for also helping out our guests retrieve forgotten speeches, on your scooter, as well-so kind of you!!! You carried on shooting well into the night, to ensure you captured every last moment of our special and beautiful day, including the stunning scenic shots of the Amalfi Coast line. Thank you so much for making our day extra PERFECT-you were the best photographer in the world!! Grazie Mille!!! ♥ :)
All our love,
Andy & Katie Barge (married 21.05.14) ♥ xxxxxxxxxxxxx

Katie B.
---
Having our wedding in Ravello, Italy was a dream come true. I was so lucky to have Enrico Capuano capture every moment of our special day. I never felt so beautiful. Thank you Enrico for your guidance, companion and what it takes to capture that perfect moment. I highly recommend Enrico to anyone needing a photographer while in the Amalfi Coast -- he is brilliant and you will not be disappointed.

Lisa G.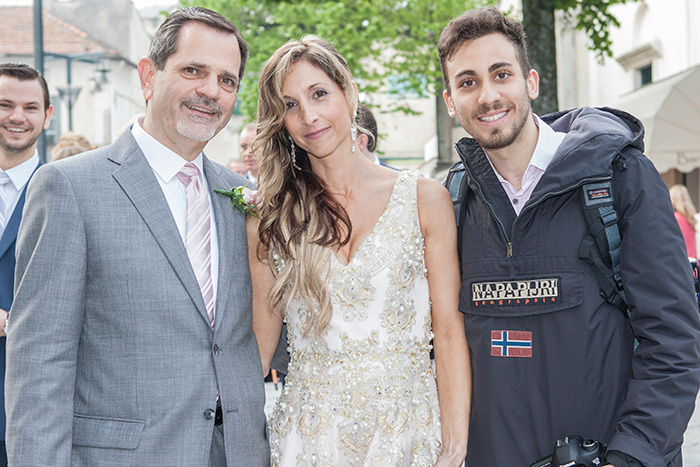 ---
We decided to have our daughter's 2 year portraits done while on vacation in Ravello and Enrico came highly recommended. We made the best decision in hiring him! We just received the disc of pictures today and are absolutely blown away!! They are absolutely gorgeous and artistic. We can't even pick a favorite because they are all so amazing! Enrico truly has an incredible gift. He managed to capture so much of our daughter's personality and all of her different expressions. These pictures are so beautiful that we had tears in our eyes looking through them. These pictures of our daughter and our family truly are priceless and we will treasure these pictures the rest of our lives. As far as photographers go, not only is Enrico the most talented one I've ever worked with, but he was also so friendly, kind and patient. Enrico took the time to find out what kind of pictures we wanted and made some excellent suggestions, walking us through the town to some off the most scenic spots in Ravello. You can tell that this man loves what his does and his passion for photography is evident in his art. He even included some scenic pictures of Ravello and the Amalfi Coast which look like they should be hanging in a museum. His communication was excellent. He was very quick in responding to emails (his English is perfect) and even sent some previews to us within a couple of days. And we received the disc (shipped to the US) a week after he finished all the enhancements. We are so grateful to Enrico for making . this such a wonderful experience for our family and for capturing the beauty and memories of our beautiful daughter in Ravello for us to treasure forever. Gracie mille, Enrico!!

Lisa B.
---
Dal primo momento che ti ho conosciuto ho visto in te la voglia di immortalare nel migliore dei modi i momenti più salienti, più belli, più strani e più spontanei che sono apparsi ai tuoi occhi. Riesci a racchiudere in una foto tutta la bellezza che c'è dall'altra parte della tua fotocamera. Ricorda, non bisogna mai giudicare un fotografo dal tipo di pellicola che usa, ma solo da come la usa, e tu... Sai usarla molto bene, continua cosi.... Grande

Simone M.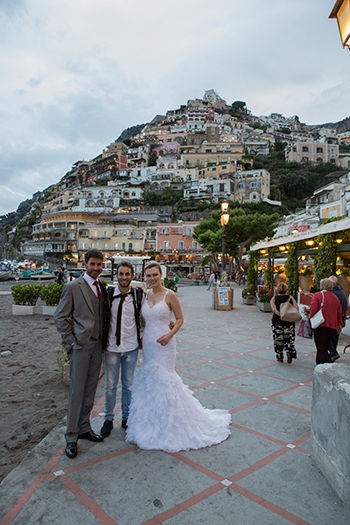 ---
Querido Enrico, Luiz Henrique e eu temos muito a te agradecer. O nosso casamento em Positano foi lindo e você conseguiu captar todo esse momento cheio de emoção. Todas as nossas expectativas foram superadas e as fotos estão lindas. Você é um profissional brilhante e seu bom humor é contagiante!!! Parabéns pelo seu trabalho!!! E Antonela é muito simpática!!

Taise R.
---
Right from the moment we booked our Ravello wedding through Mario Capuano and his team at Wagner Tours, we hoped that Enrico Capuano would be available to be our photographer. We were so impressed by his amazing photos on both the Wagner Tours website and his own blog. When we arrived in Ravello and found out Enrico would be our photographer, we knew our day would be captured perfectly. Yesterday, we received a disc in the mail containing over 800 photos from throughout the day and we must say that his work has exceeded our expectations by a mile. Not being the most comfortable couple when it comes to posing for photos, we were nervous that we would look awkward and uncomfortable in our wedding pictures. Not with Enrico. He was so friendly and helpful, guiding us for each shot and making sure we were comfortable. He also ensured that we were taken to the best locations. We were completely at ease having our photos taken by Enrico. He captured so many special moments, including: getting ready, the disco at the end of the reception and our first dance. He even stayed on to capture more precious moments, even though we were running behind time. During the ceremony, he was unobtrusive, taking beautiful shots without us even knowing he was there. So many of our friends have commented on how amazing the photos are and how beautiful his shots were. Dave and I cannot recommend Enrico enough. We were simply blown away by his work and have hundreds of his beautiful photos to remember one of the most incredible days of our lives. Thank you so much, Enrico, for your brilliant work. Grazie mille!

Bronwyn L.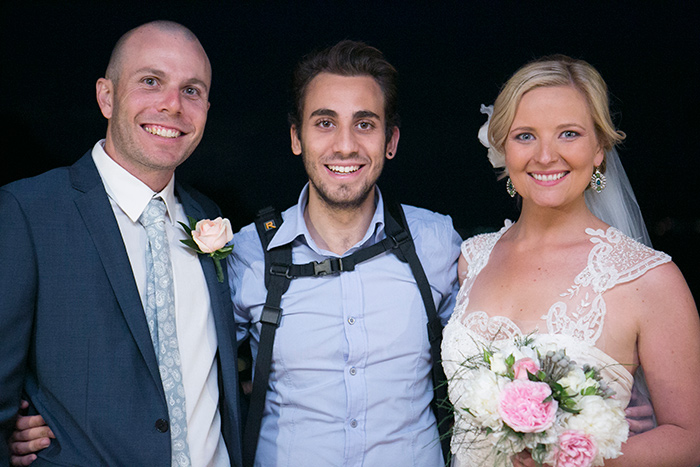 ---
Ottimo ,gentilissimo ,cordiale e molto ma molto PROFESSIONALE ...inoltre foto spettacolari e di altissima qualità , ...se volete il top ,QUI LO TROVATE !!!! GRAZIE :)

Peppe P.
---
Enrico was one of our photographers on our wedding day in June 2013, and he was brilliant. It's nearly a year later and I still keep looking through the amazing photographs every day. They are the most wonderful reminder of our perfect day. Thank you Enrico, for capturing so many parts of that. Xx

Tori P.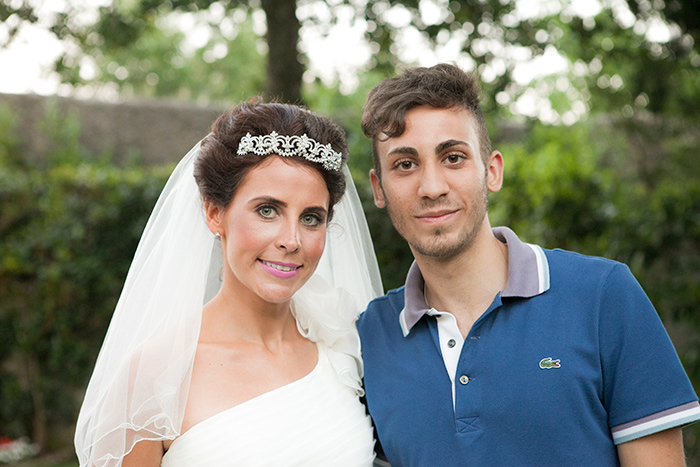 ---
On my wedding day in July 2011 Enrico was given the responsibility of looking after my Mother and I, before the ceremony. Although a young man, Enrico was very intuitive to my needs as a bride, making a bottle of water appear as if from nowhere just before the ceremony when my mouth suddenly went dry and I was worried I would not be able to say my vows. Enrico has a natural ability to make you feel comfortable and relaxed, perfect for a bride who feels a bit awkward having her photo taken. At the time, Enrico's reluctance to call himself a Professional Photographer was more modesty than accuracy. What he once lacked in extensive experience he more than made up for in enthusiasm and his fresh perspective upon the concept of photography achieved some beautiful experimental, original photographs. Needless to say, the quality of his work was excellent and we were delighted with the results. Over the last couple of years it has been a pleasure seeing Enrico's more recent work pop up on my Facebook feed, his development as an artist has been apparent; each new wedding and event has given him an opportunity to hone his skill set and natural talent. My husband and I will never forget our perfect day in Ravello and we cannot thank Enrico Capuano, his father Mario and the team at Wagner Tours enough for making all of our wedding dreams come true!

Chloe K.
---
Enrico, you are absolutely amazing. From the moment I met you I knew you would amaze me. The photographs are fantastic, you are a true talent. You made me feel very relaxed and able to just let you get on with it. You also made us all laugh and it was a pleasure to meet you. Thank you again :)

Holly F.
---
Professionalità, cordialità e tanta umiltà accompagnano il lavoro di un'artista che fa del suo lavoro una grande passione!! E i risultati si vedono tutti!

Conny L.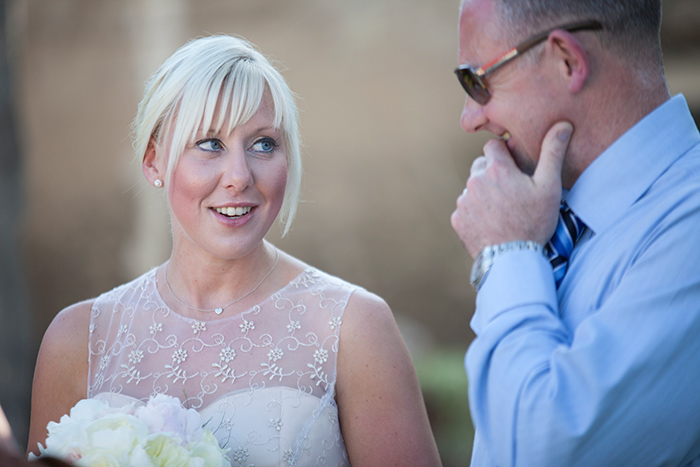 ---
Enrico is one of the most naturally talented photographers I have met, and is also a very nice person. He was the photographer at my friend's wedding and I have never seen such lovely photos. Highly recommend.

Emma P.
---
Enrico is a wonderful photographer. He captures the special moments on the best day of your life in the most beautiful way. Thank you so much for making the photography journey fun memorable and such a joyous part of our wedding day. Dorothy & John Brady.

Dorothy B.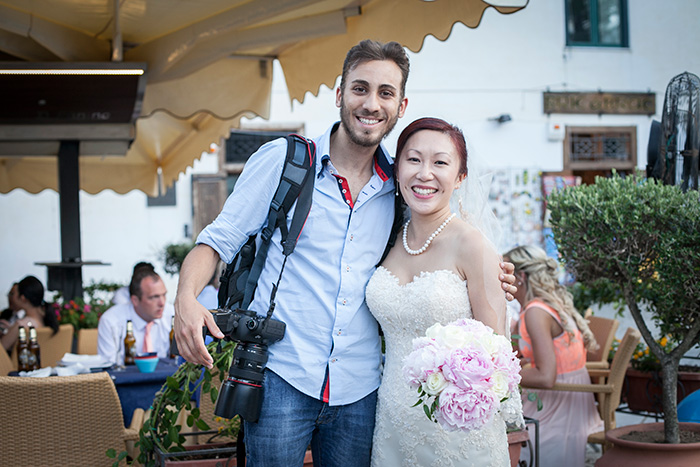 ---
Enrico is a fantastic photographer and the best choice for our wedding this year in June! The first few photos I've seen are absolutely amazing. Thanks a lot Enrico, you made it so much fun as well for us :-) Totally recommend any future bride and groom to work with Enrico!

Sandra J.